Today is the start of the 17th Foundation Day of my daughter's school. The celebration will be celebrated for a week. For preschool, the activities are amazing talents, kite flying, bake sale, splash day and family fun day. This only means that camera will be my companion for some souvenir pictures. Aside from the camera, USB is very important because I can't transfer the photos here in the laptop. I have one but it's just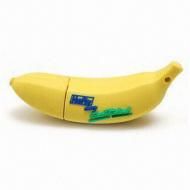 simple and bought it for less. And because it's a cheap USB I should not surprised if this USB will get break in no time.
I saw usb promotional items in one of the sites I have visited earlier. Their collection of USB is cute with different designs like animal, tire, tennis racket, wristband, panda-shaped, carrot-shaped, sofa-shaped and a lot more. Hmm, I'm thinking of getting one banana-shaped USB, it's so cute =).