London is one of the world's most fantastic cities, and millions of people visit the capital to experience the diverse culture, great food and amazing entertainment of the UK's tourist hub. Over ten million people live in London, meaning the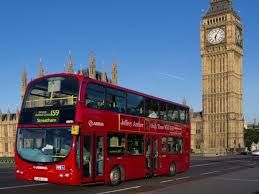 streets are some of the busiest in Europe, but they're also complemented by spectacular architecture and historic monuments everywhere you turn. Whether you're looking to experience London on a 'Boris Bike', from the top of a tour bus on or foot, there are plenty of things to see and do; so much so that you won't know where to start!
From Big Ben and the London Eye to the British Museum and the Houses of Parliament, London really is an oyster for tourists. One of the best things about London however is its appeal to small children, and parents have no need to worry when bringing their children to the capital, as there is a variety of entertainment for the young ones too!
There is no shortage of activities for toddlers to experience when visiting London, which is great news if you're an active parent. Everywhere you turn you'll be able to find something new to visit, and because most of the monuments in the capital are free to go in to, you'll be able to save yourself some money as well. Let's take a look at some of the top activities for children under 5 in London.
Playing In The City's Parks
From Hyde Park to Victoria Park, London has some of the most stunning, open landscapes in the country, and they're great places to take your young children. Not only will you be able to explore the playgrounds and green spaces, but many of the parks also have excellent transport links to tourist hotspots around the city. Why not start your tour of London's parks with a visit to Kensington Palace's Peter Pan Statue, or take your children to look at the beautiful horses at Hyde Park Stables.
And then there's the Princess Diana Memorial playground – one of the most popular places for families to visit in the city. Not only can your children play in the sandpits, but there's also a safe adventure area too, with swings and slides galore! If you're looking for flights to London this summer, make sure you compare the best deals online.
See The Animals
If you love seeing animals up close, then you're going to want to take your kids to London Zoo, the biggest Zoo in Europe! With hundreds of animals to see, and a variety of amazing petting areas, your children will love visiting one of London's biggest and best attractions. From penguins and giraffes to gorillas and lions, you'll be able to educate your children on all the different animals they'll see throughout the day, and there are even some great restaurants to relax at while having a nice meal.
Once you've finished at the zoo, why not try the London Aquarium. Housing some of the biggest and best sea creatures from all over the world, take your kids down the transparent glass walkways and see amazing fish swimming all around you!