We had been in Ilocos Norte twice. I think the first one was 3-4 years ago. We didn't enjoy everything in Ilocos during our first visit. I think we only visited Marcos area and Paoay municipality due to lack of time. Now, that we came back in this beautiful province. We enjoyed our come back visit in Ilocos Norte and Ilocos Sur.
Anyhow, the family first adventure experienced in Ilocos Norte was Sand Dunes
4×4 Adventure. The family didn't plan to do this breathtaking adventure. We only saw the signage Sand Dunes 4×4 Adventure and Sand boarding while heading to Windmills Seashore.
The family didn't think twice and went to the area. After a short conversation to the people managing the place we decided to try this adventure. It was our first time to do such kind of adventure but it was exciting, electrifying, fun at the same time nervous because of the different paths we went through.
There were easy paths, sometimes slow and then went to exciting and deep paths. There's also an area called roller coaster so it's really exciting and breathtaking. We all shouted to the fullest every time we were passing in deep paths.
I never thought we have this beautiful place in Ilocos Norte. It's little Dubai as they called it. You can also witness the beautiful Suba Beach at the back of my daughter and mother in photo below.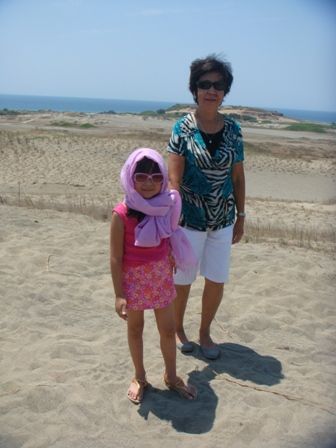 This is the area for Sand boarding. My daughter didn't do sand boarding because its really hot that time but she didn't miss the chance to use this thing used for sand boarding. It was hot afternoon when we went there, I advised you to come early in the morning. Doing this late in the afternoon is not advisable because you won't see the beauty of this place.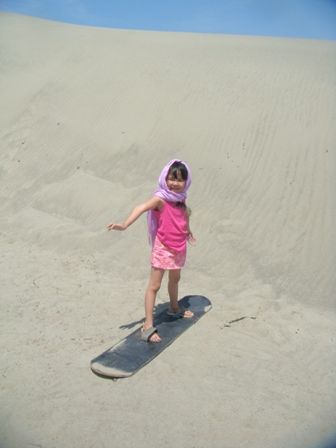 Well, the whole experienced was fun. Sand Dunes 4×4 Adventure is one of a kind journey and I will do it again if given a chance.
One thing that I noticed, they are lacking safety thing like seat belt so I hope they will work on this thing and besides it's for the safety of the passengers. I forgot to ask the name of our 4×4 driver but he was kind and always reminds us to hold tightly every time we are passing in a hard and deep paths.
For your info this place is a protected area that was provided with landscapes creating a spectacular view of original nature. It has been a shooting place of some local and Hollywood movies such as Ang Panday, Mad Max and Born on the Fourth of July.