We spent our Holy week at Ilocos Sur and Ilocos Norte. Our trip to these places wasn't a planned. My sister called us asking if we want to spend Holy week in Batangas or Laguna but decided to visit Northern part. We leave home at around 11pm and arrived in Vigan, Ilocos Sur before lunch time the following day. It's really a long trip but memorable.
Before heading to Ilocos, we decided to visit Our Lady of Manaoag Shrine in Pangasinan. It was my first time visiting the church. I was amazed because there were thousands of people from nearby places and far places like us. We never knew that we entered and parked at the back of the church. In front of the church we saw crowded people; indeed this church is very popular to all pilgrimage.
I learned that this church is popular local pilgrimage site as it preserves a 17th-century ivory statue of St. Mary in the named of Nuestra Senora del Rosario de Manaoag (Our Lady of the Rosary of Manaoag). According to the legend there was a young man who had vision of St. Mary and told him to have the shrine built. The church also has 400-year history of renowned miraculous and pious events, so I think the reason why pilgrimage always wanted to visit Our Lady Of Manaoag.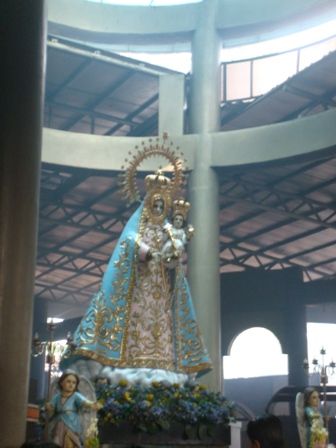 This is the front view of the altar. I noticed that the structure of the church (inside) is like a cross.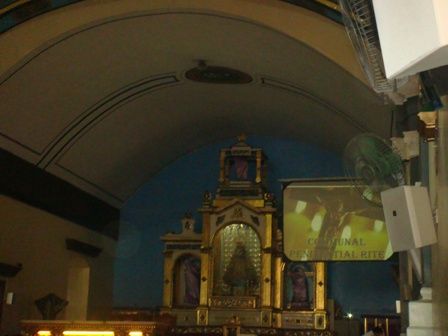 This wooden sculpture of Our Lady of Manaoag in a tree caught my attention.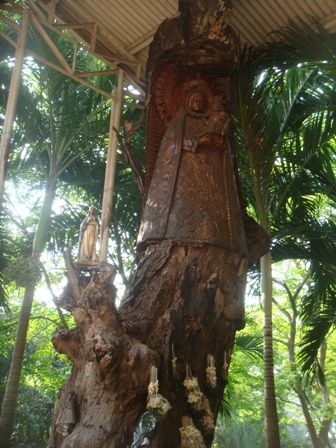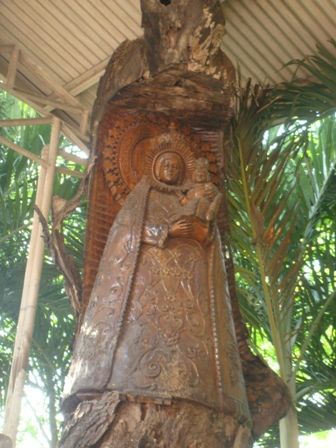 Famous souvenirs include candles, rosaries, and ampullae of blessed oil with flowers (which supposedly has healing properties).