These photos were taken last December 28 at NAIA Terminal 2, when we were waiting for my niece to arrive all the way from Canada. This was already past 10pm but still the energy of these kids was there. Anyhow, this was my niece first vacation in the Philippines after they migrated in Canada two years ago.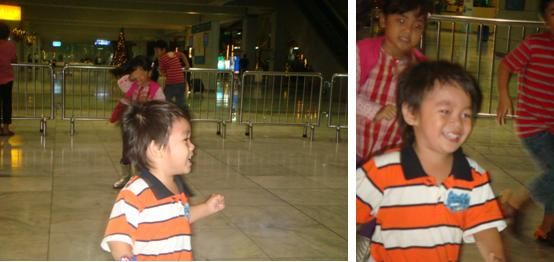 Anyway, niece arrival was 10pm but it's almost 10.30 and she didn't show up in Terminal 2. My brother-in-law checked the monitor TV to see airlines already arrived but he didn't see my niece flight. So he advised us to go to Terminal 1, good thing it's near and no traffic already. At Terminal 1 we looked at the flight scheduled and saw my niece flight there. So we were waiting at Terminal 2 for nothing. We saw my niece right away and told us that Terminal 2 was really written on her itinerary anyway the important thing is she was with us already.
Almost 2 years in Canada my niece gains weight but not totally fat just gain some weight because way back here she was thin. We decided to go home because it's almost midnight but before going home my niece bought first chocolate in Duty Free. She didn't have the chance to buy in Canada because as she said, she was too busy on her work. After she bought chocolates we then decided to go home. We had stopped over in one of the stores of Jollibee. She misses this fast food store a lot because there's no Jollibee in Calgary but she said there's one in Toronto (if I'm not mistaken).

Well, as I am writing this post niece already in Canada. This should be written before but I'm too busy with my offline tasks so haven't shouted on this blog. And there were days I was going out with my niece. Niece only here for short vacation, 21 days to be exact and last Saturday she went back to Canada. Last Sunday she left a message on Facebook saying she arrived safely in Canada, thanks God and till your next visit … God bless!